Follow rower Holly Hill on the long & winding road to Tokyo
Gordon Associates is pleased to announce that we are sponsoring Holly Hill, a member of the GB Rowing Team. It is an honour for us to be associated with an athlete at the peak of her sport so please join us as the story unfolds.
Holly will be sending regular reports and photos from the team's training camps and championships. Here's the latest update:
January 2019: Postcard from Portugal
Hi everyone! I'm Holly and I'm currently a member of the Great Britain Rowing Team working my hardest to earn a spot on Team GB for the 2020 Olympic Games in Tokyo, Japan.
I'm really excited to be partnering with Gordon Associates and am looking forward to sharing my international rowing journey with you. As you can imagine, there will be some ups and downs along the way but hopefully I can give you an insight into the life of a professional athlete chasing their 10 year old dream of competing at the biggest sporting event on earth!
I was lucky enough to start my rowing career as part of the talent ID scheme 'GB Start' which followed the London Games. I picked up my blades for the first time in September 2013 and promptly let go of them again 30 seconds later as I capsized for the first time getting into my boat!
I spent the next 4 weeks accidentally plunging myself into the cold water of the river Ouse in Ely almost daily. But despite the breathtaking cold water immersion I discovered a love of learning to master a new skill and an opportunity to challenge my resilience both mentally and physically – and I've never looked back.
2 years later, I found myself representing Great Britain for the first time on the international stage at the U23 World Championships. I was in the Women's Four (four athletes, one blade each, two rotating to the left, two rotating to right) and amazingly we came home with a bronze medal.
Today, 5 years on from that first capsize, I am a fully-fledged member of the GB Rowing Team, training 3 times a day, 6 days a week alongside 60 of the tallest men and women in the country!
The national training centre is fantastic and comes complete with a crew room for eating and resting, a bunk room for afternoon naps (the best!), a physio room, doctor's office, weights gym and indoor rowing machine room (the absolute worst). It's based just outside Reading but every 6 weeks or so we disappear off abroad to various training camp locations to escape the wind and rain of the UK and give us a chance to increase the mileage on some nicer water.
This month we've headed out to Avis in Portugal for three weeks of tough winter training – as the Olympics draws nearer the volume of the training programme increases so fingers crossed I survive to tell you all about it next time!
In the meantime, if there's anything you'd like to know, I can be found on instagram at holly.hill123 so feel free to get in touch!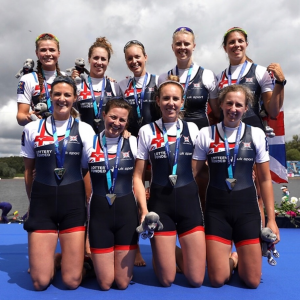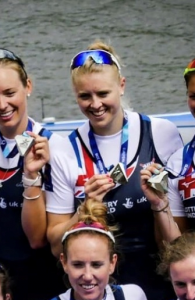 European Silver Medallists in the Women's Eight at the 2018 European Games in Glasgow
British Rowing
To subscribe to the British Rowing newsletter go to https://www.britishrowing.org/news/