Follow rower Holly Hill on the long & winding road to Tokyo
Gordon Associates is pleased to announce that we are sponsoring Holly Hill, a member of the GB Rowing Team. It is an honour for us to be associated with an athlete at the peak of her sport so please join us as the story unfolds.

2020/21: Olympics postponed! But Holly is still training hard – more updates to follow …
Holly will be sending regular reports and photos from the team's training camps and championships. Here's the latest update:
September 2019: World Championships
As September draws to a close, so too does the 2019 rowing season. Over the last three months the GB Rowing Team has competed around the world at a series of World Cups, European Championships and finally the World Championships. Last time around I mentioned how the World Championships this year doubled up as the Olympic Qualification Regatta, adding a serious amount of pressure to what is already the main event of the season – in a way, it's bigger than the Olympics because a mistake at this regatta means the Olympic Dream is over before it's even begun.
This blog is a little long, but I wanted to take you through the season and give you all a bit of an insight into the biggest competition most sports face outside of the Olympics. However, the TL:DR version is: we qualified for the Olympics!!
In the sweep team (one blade each rather than two!) we had three boats to qualify at the Championships and so throughout the World Cup series we rotated a lot within the crews to try and find a combination that would allow us to be fast enough in all three boat classes come the Worlds. As a result I spent time in both the Four and the Pair through June and July and really enjoyed racing both. My highlight of the series however had to be getting to stand on the podium at the 3rd World Cup in the Netherlands. Although I'd had success at the European Championships in 2018, this was my first ever World Cup medal and in a tougher event. It's always an incredible feeling to stand on a podium wrapped in your national flag and the next challenge is now to hear the anthem..!
| | |
| --- | --- |
| | For the World Championships I was moved into the Women's Four and spent the next 6 weeks on training camp working on the project alongside fellow athletes Polly, Emily and Sara and our coach Tom. The first 4 weeks are defined as the 'work camp', the peak of which involved rowing 220km in 7 days alongside weights sessions… it was as grim as it sounds!! Having survived that we moved into the endlessly more enjoyable 'taper camp' which is where the milage reduces and the racing pieces increase, allowing us to push ourselves harder for shorter periods and then recover for longer by an Italian lake – otherwise known as the dream. Our next stop was Linz, Austria. |
The World Championships is always quite different to any other regatta because the racing is spread over 10 days rather than 3, allowing most crews to have a day off between each race. This is mostly great for performance because of the additional recovery time and also the chance to straighten out any issues or lessons from the race before. The only drawback is that the nerves and stress lasts for longer and at this regatta, these were both off the scale! As a fairly new combination the additional time was extremely helpful – whereas many countries with fewer athletes put out crews to race the entire World Cup series and then the Championships, we came together 6 weeks before the World's because our coach had been seeking a balanced effort across the boat classes.
In the Women's Four we had 16 entries of which 8 would qualify for the Tokyo Olympic Games. The nicest way to do it is to progress to the A Final (the top 6 boats) and secure qualification before the final races. However, if you miss out on the A Final but qualify for the B final, there are still 2 qualification spots up for grabs if you can finish first or second (7th or 8th overall). We safely navigated our way through the first two rounds of racing, learning a lot along the way and moving into the A/B semi-finals. Here we drew the Netherlands, Poland, USA, China and Canada, all of whom we knew would be tough to beat, but we were ready for the challenge. Unfortunately for us we couldn't match the pace of the top 3 crews through the second half of the race and, despite a lung aching final two minutes, we crossed the line in 5th, 2 seconds from 3rd.
And so, into the B final we went, knowing that this was the last chance. Top 2 or pretty much die trying. We prepared for the race as we would any other: a crew debrief the evening before, 20 minutes of mindfulness as we went to bed to help us fall asleep despite the anxiety and then an early rise at 5:30am to begin to get the body ready to race. We had spoken the night before about channelling 'a psychopath mentality', which sounds a bit intense but actually really helped me to focus my mind on the job we had to do rather than letting my brain run away with scenarios and the emotions of imagining us making or not making it. We caught the 6:30 bus down to the course for a pre-paddle, consisting of 4km or 1 lap of the lake, and then returned to the team tent where we would stretch, take on some more food and water and relax until it was time to go. In these last moments of quiet you would have found me stretched out on a foam mat in the shade, sunglasses on and headphones in listening to YouTube reruns of comedy show 'Would I Lie To You?' to distract my brain from starting to psych itself up or panic.
With 90 minutes to go until the race start, I packed up my things, had a full stretch and then changed into my race gear and double checked I'd got my essentials: water bottle, energy gel, caffeine tablet and the speed coach (which clips in and gives me our speed and strokes per minute during the race). I then climbed onto one of the bikes in the GB tent to start warming up. After about 10 minutes of calm pedalling I switched my music over to something a bit more energetic and empowering, for example 'Proud' by Heather Small, or 'Heart of Courage' by Two Steps From Hell. By the end of the playlist I was feeling physically warmed up and mentally absolutely ready to go. I walked over to the boat with my crew and we had a final pre-race talk: Eyes in the boat. Trust the legs. When it hurts, we're with you. Make them suffer. We're ready.
Our warm-up went well. There was a slight head breeze on the lake which made our pieces in the direction of racing a little slower than normal but we had prepared for this so it didn't faze us. We arrived at the start line feeling calm and with 6 minutes to stow away any loose gels and pass any water bottles to the bank. The starter then announced "2 minutes" and a hush fell over the crews. My final act was to turn to Polly behind me and say "we got this", then it was blade squared up, eyes on the traffic lights.
The red light vanished, there was a sudden rush of noise and adrenaline and we were off. At 500m in, I remember having a moment of recognition that the Chinese crew two lanes across had jumped out very fast and were no longer in sight. After that all I can remember doing was repeating "you can do it" in my head over and over again. I was vaguely aware as we passed half way that the Chinese on our right were gone but that I could still hear Canada on our left. It was time to step into the second half move – just a few more watts from the legs but no change to the rhythm. Incredibly, it worked and with 500m left to go we were level with Canada and had also reeled China right back in. Now that I look at the times I can see that we were still in 3rd place (not qualifying!) at the 500m to go mark, but all I can remember feeling at that point was a sense of belief. The final 2 minutes were a kind of out of body experience. I sensed our boat moving through the other two and I almost couldn't feel the pain in my legs because there was no point in feeling it. Even if my body was crying out to stop, my brain wasn't going to let it. The adrenaline carried us right through the line and we somehow won the B final by 2 seconds over Canada who had also rowed through the fast fading Chinese boat. We'd done it!!
The feeling of euphoria indescribable and equalled only by coming off the water to find out that our Women's Pair, who had raced just before us, had also qualified. I then watched the following day as the GB Women's 8 came home 5th to take home the final qualification spot and secure the sweep team all 3 qualifying spots that had been up for grabs. It wasn't the prettiest racing we've done as a squad and we cut it very fine in almost every class, but the gamble paid off and going into Olympic year we have three sweep boats qualified alongside 2 women's sculling boats (two blades!) and 4 men's boats.
Following a 3 week break, the new season gets underway very soon and the real work begins then to get selected for one of the qualified boats.
Huge thanks again to Gordon Associates for helping me on this journey – I look forward to keeping you up to date as the year progresses! As ever, feel free to get in touch on instagram @hollyhill.123 !

June 2019: The Main Part of the Season
The start of June is a very exciting time in the calendar of an international rower because it signals the beginning of the international racing season! Throughout the year the GB squad athletes do get the chance to compete in one or two of the big domestic regattas, but our main focus is always on the international events. In a single year there are 5 major regattas: three World Cups, a European Championships and a World Championships – which becomes the Olympic Games once every 4 years. The World Cups could be viewed as test matches – countries will often put out a variety of combinations and change them through the World Cup series in order to identify their fastest line ups for the Championship regattas.
Over the last two years I've had the opportunity to race at a variety of these regattas, most notably earning my first senior World Championship vest racing the Women's Pair in 2017 and last year winning a Silver medal at the 2018 European Championships. I've had a lot of fun with international racing so far, but this season is set to be the toughest yet. This is because, in the year before an Olympic Games, each nation must qualify their boats for an Olympic place, i.e. the right to be on the start line next year in Tokyo. The qualification decisions will be made at the 2019 World Championships at the end of August and the competition will be absolutely fierce.
Some boats are easier to qualify than others: smaller boats like the Women's Pair have 11 Olympic places, whereas the bigger Eights only have 5 qualification spots making this event the hardest of the regatta. To give you a taste of the competition, chasing these 5 places this summer will be: European Champions Romania, European Silver medallists Great Britain and Netherlands, World Champions USA, World Silver medalists Canada, World Bronze Medalists Australia and then New Zealand, China and Russia. At last years World Championships 1 second separated 5 crews to the line in the semi-final so it's going to be a very tight regatta!
As a team we are currently moving athletes around between boats trying to give all our crews the best chance of qualifying. We've had a strong squad ethos since the start of the year, summarised as "23 seats", which indicates the total number of athletes that could qualify for Tokyo this summer. As a team we are ready for the challenge and will be giving it all we've got through this regatta season. I'd like to thank Gordon Associates for their support as I head into my toughest season in the sport yet and hope that I can make you proud!
March 2019: A Typical Training Day …
Our third training camp of the season has brought us back out to Portugal to make use of the continued warm weather that can be found on the continent in February & March while the UK often endures some more rogue conditions! This time we are on Lago Azul, 2 hours to the north of Lisbon.
Alongside the nicer weather, training camp also gives us the opportunity to escape the confines of our 2,000m course which, when you've got 20,000m to row can make you feel a bit like you're forever spinning in circles! In addition, having all the facilities on site with no travel required means we can maximise recovery between sessions and therefore fit more training into the daily schedule.
I'm going to give you a bit of an insight into a typical day on training camp – so you don't think we're just swanning off on holiday to sunny places 6 times a year!
Usually we wake up at 6:30am and present for something we call 'Morning Monitoring' at around 6:45. This involves heading to the physiology room and filling in a spreadsheet with variables such as waking heart rate, body weight, quality of sleep and perceived shape. We also hand in a pee sample to check our hydration and finally have a small amount of blood drawn from our ear which is used to measure blood urea, an indicator of fatigue.
We then grab some breakfast, stretch in the gym and finally head to the boats for a morning row. At home this would normally be around 16km but on camp we can extend it to 20km and the coaches can all come out on their own launches to follow us more closely and give coaching.
We then have a couple of hours to refuel and get off our legs before heading back to the boats for a second session on the water. This will either be another steady paddle for around 16km or sometimes we get to fire it up and do some faster pieces! This is followed by lunch and a couple of hours off in the afternoon to chill and probably have a sleep! We then finish the day with a 90 minute weights session where we focus on core stability and rowing related strength work.
For the most part I absolutely love being on training camps – we're so lucky to stay in the beautiful places we do and it's a great chance to absolutely nail our recovery strategy and get the most out of the days we have left until the Tokyo Olympics… 519 at the time of writing so I better get training!
As ever, feel free to get in touch on instagram @hollyhill.123 !
January 2019: Postcard from Portugal
Hi everyone! I'm Holly and I'm currently a member of the Great Britain Rowing Team working my hardest to earn a spot on Team GB for the 2020 Olympic Games in Tokyo, Japan.
I'm really excited to be partnering with Gordon Associates and am looking forward to sharing my international rowing journey with you. As you can imagine, there will be some ups and downs along the way but hopefully I can give you an insight into the life of a professional athlete chasing their 10 year old dream of competing at the biggest sporting event on earth!
I was lucky enough to start my rowing career as part of the talent ID scheme 'GB Start' which followed the London Games. I picked up my blades for the first time in September 2013 and promptly let go of them again 30 seconds later as I capsized for the first time getting into my boat!
I spent the next 4 weeks accidentally plunging myself into the cold water of the river Ouse in Ely almost daily. But despite the breathtaking cold water immersion I discovered a love of learning to master a new skill and an opportunity to challenge my resilience both mentally and physically – and I've never looked back.
2 years later, I found myself representing Great Britain for the first time on the international stage at the U23 World Championships. I was in the Women's Four (four athletes, one blade each, two rotating to the left, two rotating to right) and amazingly we came home with a bronze medal.
Today, 5 years on from that first capsize, I am a fully-fledged member of the GB Rowing Team, training 3 times a day, 6 days a week alongside 60 of the tallest men and women in the country!
The national training centre is fantastic and comes complete with a crew room for eating and resting, a bunk room for afternoon naps (the best!), a physio room, doctor's office, weights gym and indoor rowing machine room (the absolute worst). It's based just outside Reading but every 6 weeks or so we disappear off abroad to various training camp locations to escape the wind and rain of the UK and give us a chance to increase the mileage on some nicer water.
This month we've headed out to Avis in Portugal for three weeks of tough winter training – as the Olympics draws nearer the volume of the training programme increases so fingers crossed I survive to tell you all about it next time!
In the meantime, if there's anything you'd like to know, I can be found on instagram at hollyhill.123 so feel free to get in touch!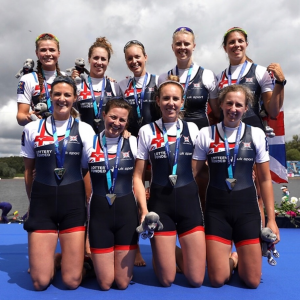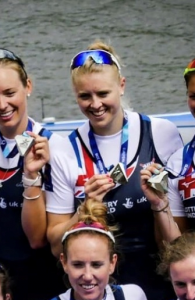 European Silver Medallists in the Women's Eight at the 2018 European Games in Glasgow
British Rowing
To subscribe to the British Rowing newsletter go to https://www.britishrowing.org/news/